THERADOME HAIR GROWTH REVIEWS
Theradome reviews submitted by real Theradome customers. Theradome laser hair therapy helmet is recommended by doctors.
Theradome results may vary from person to person.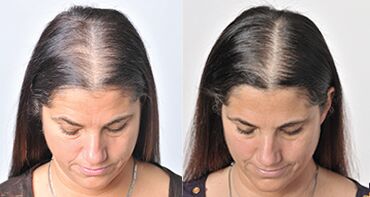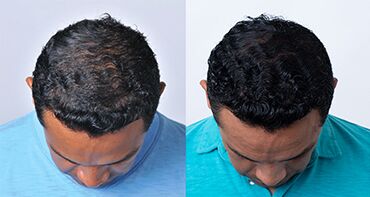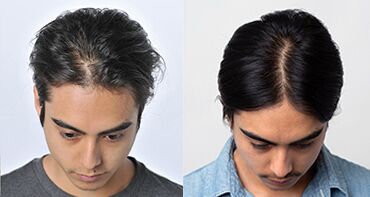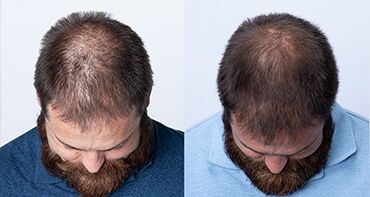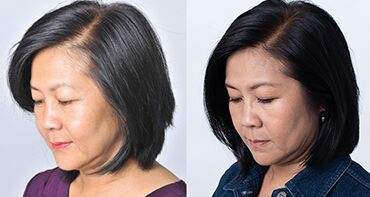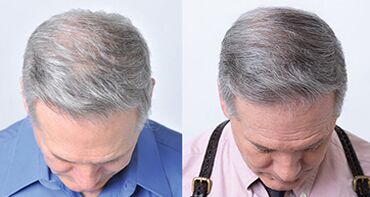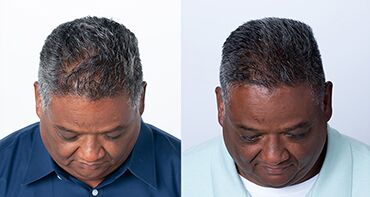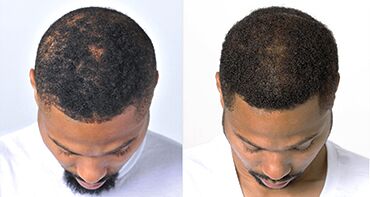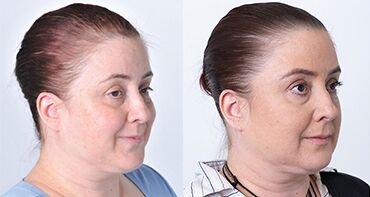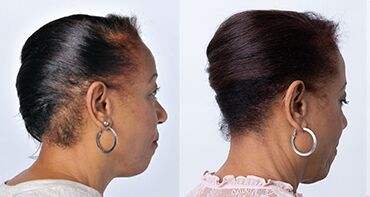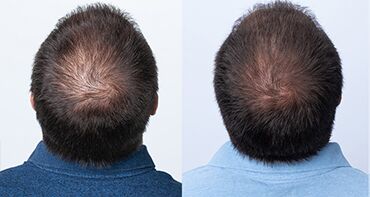 I am writing this Theradome review after owning my Theradome for around 3 years now. I was convinced to purchase the Theradome when weighing up the costs of actual clinical laser treatments vs. the one off cost of the Theradome laser helmet.
The convenience of using the LH80 Pro for 20 mins a day is far and beyond the best feature of the device. I can sit down to read or to go about my home at night while watching TV or even doing some cleaning while wearing Theradome. It's set and forget.
My hair saw a rapid increase in quality. The hair stopped being frizzy and thin and started to become heavier and thicker. This made it easier to manage and required less work on a daily basis to make myself presentable. I also saw a few of the finer hairs on my head increase in size and thickness to be considered normal hair again which was an incredible feeling.
It should be noted I underwent a hair transplant 2 years back to restore 1 cm on my hairline. I wouldn't have committed to the surgery if I hadn't stopped the shedding I was suffering prior. No use dropping several thousand dollars only to see more hair recede.
I have no doubts that the Theradome helped with my post surgery recovery and I saw 98% of my hair retain following the transplant. In terms of return on investment, the Theradome is one of the best purchases I ever made and should be a staple in anyone's hair loss treatment plan.
Theradome review from Lee
Hello Theradome,
I wanted to share my results from the usage of the Theradome. In the first photo my hair was shoulder length and I decided to cut it very short. I wore it short not realizing I had a medical problem. It was after a year of seeing my hair shed that I finally went to see my dermatologist to learn why I was losing my hair. The results came back that I had alopecia.
I was placed on two medications and I took it as prescribed. I did not see any healing from the medication, but the results were that I gained a lot of weight. I decided to stop all of the medications and contacted my church and I asked them to place me on the prayer list.
The next day I was on the computer and a Theradome ad popped up. I checked out the website and also attempted to contact the woman who used the product to see for myself if the Theradome was for real (note: I could not get a hold of her) So I then spoke with a Theradome representative who told me all that I needed to know (I found her to be very honest and sincere). Needless to say I brought the Theradome and this is the results.
My hair is thicker, healthier and all natural (no perm). Prior to learning my medical condition my hair would not grow at all. As you can see the bald area has filled in and my hair is growing. My goal is to get my hair back to the length that it once was and of course chemical free. I will be using this product for life and I will be purchasing one for my husband.
Thank you Theradome
Theradome review from Deborah M.
I received the Theradome's this morning – fantastic delivery time.
Well, I opened one to familiarise myself with the workings. First impression – very professional. From the solid plain carton, the carry bag, the foam pads, the instructions, the plug adapters and the Theradome itself, everything showed a commitment to detail, with no corners cut. The Theradome just looks great.
I've charged it and tried it and everything worked just as the booklet said. I am really impressed.
You deserve congratulations for producing such an excellent product.
Best regards,
Theradome review from Roger Copland
I wanted to leave this review for Theradome because I am already beginning to see results in the first 2 months from my Theradome!
Theradome review from Julie G.
The Theradome LH80 product design is actually undersold! It's really beautiful looking piece of kit. Let's face it, most laser helmets up to now were rather clunky and weird looking. Congratulations to the Theradome design team. It is user friendly, light to wear and comes with clear and concise instructions.
Theradome review from D Manning, Laser Hair Restoration Specialist, Dublin, Ireland
The Theradome™ LH80- PRO is Indeed Revolutionary.
The Theradome™LH80 PRO is miles ahead in technology, ease of use and comfort and should be required therapy for all post transplant patients.
Packaging a $55,000.00 in-clinic laser into a helmet that is rechargeable is nothing short of amazing.
As a hair transplant surgeon, I feel confident in saying that the Theradome™ LH80- PRO is indeed revolutionary. Since using the helmet I can honestly say, that compared to all of the other available lasers (helmets, "combs", etc), the Theradome LH80 PRO is miles ahead in technology, ease of use and comfort and should be required therapy for all post transplant patients.
We have seen better and faster healing, little to no shock loss on the transplanted or existing hair with immediate sessions of LLLT in both the MEP-90, and the Theradome LH80 PRO. Packaging a $55,000.00 in-clinic laser into a helmet that is rechargeable is nothing short of amazing. No wonder that it came from the mind of a NASA scientist.
Theradome review from Jason Lukasewicz, D.O.
I've just completed my 49th treatment (1 session per day) and the results are great. I'm seeing some proper full length hairs regrow on my temples. My bald spot on the top of my head now has some thin coverage that seems to be improving every day. My hair also seems more manageable and looks a lot better.
Finally I would like to personally thank you for making Theradome. I bought a laser comb about 7 years ago and when I used it I did see some results however it was such a pain in the neck to use. I would only get a month of constant use before I'd get fed up with doing the treatments and take a break from it.
Thanks Again
Theradome review from Alex Jordan
I would first like to tell you how pleased we are with our 2 Theradome helmets. We are a family of four, with two kids (boy and girl) in their mid 20's going to university. Each of us has noticed a dramatic improvement in our hair. We use it twice a day and the results are better and faster than we could have hoped. Thank you Theradome from all of us.
Theradome review from Brian N.
I went for about a year or more with steroid injections. I started with pencil eraser sized patches October 2012. My Alopecia Areata became worse with larger half dollar sized patches. My Alopecia was spreading in the rear of my scalp again. No medications topical or vitamins, oils or anything worked.
I spent hundreds of dollars trying to stop the spread of my baldness. I was depressed and very very upset. I no longer felt like a woman or a human being. I felt so badly about who I was – I think I was close to giving up entirely. I found many companies offering products that was meant for animal fur or horses. I saw many many companies and people ready to take advantage of me and people like me with a disorder that makes people especially women feel horrible.
I was on YouTube looking at knitting tutorials when I saw the Kickstarter commercial bragging about the FDA clearance of the THERADOME. I was so distraught and in so much distress and pain, when I e-mailed Jenae Frick and Dr. Hamid they were so supportive and wonderful. As of this date I've done 69 treatments since January 13, 2014.
BEFORE THERADOME LASER HELMET ALOPECIA AREATA HAD CAUSED OVER 50% MY HAIR TO BE GONE. INJECTIONS ONCE A MONTH UP TO 30-50 INJECTIONS.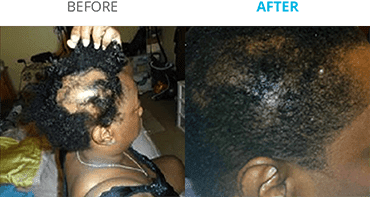 Theradome review from Sabra Hardy
Love, love, love my Theradome. Have only been using since December and already see dramatic results.
I started using the Theradome late December with little to no expectation but with the thought that it certainly could not hurt. Much to my surprise and amazement, I absolutely see a difference in my hair. I have very fine new growth around my face where my hair line was severely receding. Being a woman that has been color treating my hair for many years, coupled with getting older, my hair has been progressively thinning.
Within the first 2 months of using the Theradome I started questioning myself, is it working? Is it my imagination because I want it to work so bad? I first noticed the texture of my hair seemed to change and feel slightly thicker, now when I put my hair up, my hair seems to have much more volume. I believe the new growth filling in on my scalp is giving me the new found volume.
My hair is shoulder length and I use to wear my hair up all the time because my hair was so stringy. I now wear my hair down almost everyday and receive hair compliments often which proves to me this new is no longer in my head but very real. I love the Theradome!
Theradome review from Kim C.
I had hair implants 8 years ago and if the economy was better I would have gone back for more hair. I have been using the Theradome since December and see a noticeable difference in the texture of my hair. The top where I still had a bald spot, feels and appears to be filling in. I am super excited to see the coming results as what the hair growth results I've seen with Theradome so far is very exciting.
Theradome review from Greg
Thank you Theradome! Something out there that really works like the MEP-90!
My story begins some 20 years ago during pregnancy. My hair was always full and thick, even more though while I was pregnant. After giving birth however, everything changed. My thick and curly hair began shedding, and nothing would stop it. My hair became so thin, that people could see my scalp. As a school teacher of high school aged students, this is NOT a good thing. Over that summer, I made the decision to wear a wig.
For the past 18-19 years, that's how my students have seen and known me. My wig became "me". Needless to say, after a few years I accepted my hair for what it was, continued to wear a wig, and neglected the hair that I had.
Then 3 years ago when I was introduced to the MEP-90. I was told that it very well might help me by the hair replacement clinic my husband went to and trusted. So I signed up, started going in 2-3 times a week for treatments. I noticed a difference in my hair in the first couple of months. I noted that it felt better and looked healthier. I stopped washing it with a bar of Dial soap and began using a DHT blocking set of products that were recommended.
After 6 months there was more hair.. thicker, healthier, etc. I continued seeing improvements and started seeing new hair around the 12-15 month time frame. Then my husband was diagnosed with a case of pancreatic cancer (which 4 months later was completely gone!). During that time, I stopped going for treatments and looked for something to continue my on-going LLLT. I tried Hairmax, I wasn't happy with the holding a "brush" on top of my head for 15 -20 minutes at a time. Reluctantly, the folks at the hair clinic I was with sold me an iGrow. I continued on with the iGrow for some 12-15 months, but saw no progress and actually began reverting back to my pre-MEP-90 days.
Last December that all changed when the director of the clinic said that he now had the MEP-90 in a helmet that I could use at home! The "Theradome" went home with me that night and after a charge, has been used religiously ever since. First 2x a week, then every other day and now 4-6 times per week, and I'm quite happy to say that from my personal results the Theradome is INDEED the MEP-90 in a box that you use at home. No stupid cords, no holding my arm above my head, all things that I'd be willing to do IF I saw results, but I did not.
I know that a picture is worth a thousand words, and I'm working on that right now. I have my before and after for the MEP-90, followed by the aftermath of moving away from the MEP-90 and on to the Hairmax, then the iGrow. At my 6-7 month mark I'll send in some pics of my head, but in the meantime… THANK YOU THERADOME AND DR. HAMID AND TEAM!!!
Theradome review from Christine Davies
In December of 2011, I was diagnosed with Colon Cancer. I incurred a colonic resection surgery in January of 2012. During the surgery, it was found that I had a positive lymph node and therefore was diagnosed as Stage 3, and needed follow-up chemotherapy. I incurred 6 months of radical chemotherapy through September of 2012 in both intravenous and pill form.
As a result, I lost ½ of the hair on my head. Although some of the hair grew back, not all of it did. I was left with very thin/fine hair on the top and back of my scalp which has been very difficult for me to deal with. During my chemotherapy, I wore hair pieces, but did not want to wear them after my chemo was completed.
I decided instead to use some fill-in hair powder products such as Joan Rivers "A New Hair Day" and Bumble and Bumble's hair powder pray. These are products that give the illusion of filling-in the hair to cover the scalp and bald spots and these products wash right out. To try to re-grow hair, I tried Rogaine, Aveda and other topical products thereafter, and nothing worked. My brother told me about the Theradome helmet after doing much research on hair replacement options. I decided to give it a try:
After the first two weeks of using the helmet every other day, I noticed that less hair was falling out on the floor in my bathroom. I also noticed that my hair looked healthier and a little bit shinier and felt more silky/smooth than it had felt before. After using it for only one month, I notice that I don't have to use quite as much of the "fill-in" products to cover my scalp and that my hair looks overall a tiny bit fuller.
I'm not sure if this is just psychosomatic, however, I feel a little bit more confident about my hair. I hope that in the months to come, I will see more hair re-growth.
Theradome review from Sherry P.
The Theradome helmet truly works! Not only do I have more hair, the hair that I have is stronger and healthier. A friend recently told me that my hair has not looked this good in ten years. The helmet is very convenient. I had been using Rogaine for about 4 years, and I have been able to stop using it completely. I also want to give kudos to Theradome customer service. I had a charging issue with my helmet, and Will Hornby at Theradome made an extra effort to expedite my request so that I would not experience downtime and loss of hair growth progress. I am a very happy customer!
Theradome review from Liz M.
Today I decided to order my second THERADOME.
After almost a year of treatment, my ponytail, formerly as thin as my little finger, has become as thick as my thumb. As I cannot risk a break in treatment in the event my THERADOME should ever fail to work, it is better to always keep a new one in stock for the rest of my life. 🙂
(Seeing is believing – this product really works.)
I am really impressed about what THERADOME does for me: Never having undergone any chemotherapy, after which a regrowth comes natural, and having in vain taken all sorts of nutrition supplements well before I started my THERADOME treatment, I can think of no other explanation for my substantial hair regrowth but the predicted THERADOME effect.
Any hypothesis according to which my hair "naturally" sheds and regrows not continuously, but in some kind of veeeery long "tidal" wave would be really far-fetched.
OK, I cut down on stress, too. The shedding might have been a result of the hardest time I ever had in my life, and things are now turning out much better than I could hope they would.
Maybe we can break it down to this: Having to choose in which way to be wrong, I prefer having taken the "technical" instead of the "holistic", somewhat esoteric path. So, until proven otherwise, I will attribute the success to THERADOME.
Theradome review from I.J
As I write this I am sitting with my Theradome on, marveling at how magnificent it is–after years of creams, solutions, two hair transplants and time, this is a godsend. As an older woman I have been fighting both male pattern baldness (inherited) and female pattern baldness. I used the Theradome after my last hair transplant and couldn't believe the growth both in quantity and quality. Theradome charge lasts for about 6 times making wilderness camping very easy. The convenience of using it anywhere is fantastic and since it looks just like a bicycle helmet, I don't have to hide away. Thank you Theradome.
Theradome review from Christine B.
I am more than happy to say I am very satisfied with the improved process and my Theradome results.
I am in my 88 times using the Theradome helmet (about 40 weeks) and in about a month my hair falling has stopped and my wife told me some small hairs like roots ares growing up in the back of my hair.
Theradome review from Ramin A.
THERADOME­® SUCCESS STORIES
IT REALLY WORKS! Real people, real Theradome results


""This is easier to use than the hand held version and my hair looks thicker. Wish I had this 5 years ago!"
– Adam Goodall, USVI


"The front of my scalp has started to regrow hair covering up an area that was becoming very noticeable."
– J.D., Denver, CO


"Best Investment I have ever made. Amazing product, THANK YOU THERADOME."
– Glenn Hill, Los Angeles, CA


"I am so thankful for this product. It has made a huge difference in my part size. Thank you Theradome for giving me my hair back!"
– Teresa Brown, Woodside, NY

"More hair growth everywhere.
Love it!!"
– J.S., Franklin, TN
SHARE YOUR THERADOME EXPERIENCE
Fields marked with a * are required.
What improvement have you seen in hair growth since using Theradome? We invite you to share your story with the Theradome including before and after photos. Don't worry, we'd never share your story or photos without your consent.