Looking for help?
Find answers to your questions
Compare Theradome Lasers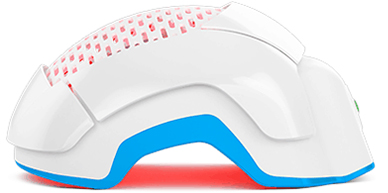 Compare Theradome Lasers
The quality of lasers is more important than the number of lasers. We make our proprietary VL680 lasers in the US at the superior wavelength of 680 nanometers. This means that we can get much deeper into the scalp and stimulate the hair follicle 2.5x more than other devices with a wavelength of 650nm. So you can achieve faster and much better results for keeping and growing your hair back.
The Theradome is convenient with its cordless, hands-free operation. Theradome lasers penetrate up to 5mm into the scalp. We achieve this with our laser cooling system. Our cooling system makes it possible to deliver the optimum dosage over 20-minute treatment sessions without laser pulsing. Some devices pulse on and off because of the heat they generate and pulsing interrupts treatment reducing scalp penetration to 0.5 mm. Some devices are made of cloth and are not easily cleaned. Theradome is easily cleaned and is more hygienic than caps.